One Saturday afternoon I decided to have a little browse on the
Michael Kors website
to see if there was anything that tickled my fancy.
Wrong Choice
. I basically fell in love with everything; the handbags, purses, watches and even the shoes! Everything just looked so pretty and I wanted it all!! But, then I snapped back in to real life and asked my self if I would actually ever pay nearly £300 for a watch , as it was the thing that my heart had fallen for. So, in the true spirit of finding cheaper alternatives, I found myself on eBay looking for some dupes. Shopping on eBay is a great way to save money on both designer goods and dupes and in fact, you can often find an eBay coupon to knock even more money off your haul - if you would like to learn how to use eBay coupons to save money you can
discover more here
by taking a look at some of the helpful resources on the Raise website.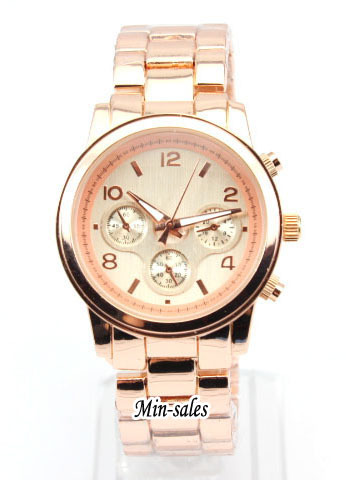 Image from Ebay
I came across
this
seller who sells MK look a like watches and literally nearly weed myself when I saw that I was only going to be paying £11 for a watch that basically looks the same! I was a tiny little bit scared at first of ordering as I didn't want to be mugged off, but to my surprise the watch arrived 2 days after ordering that Saturday (so it came on Tuesday!) in a little bag to keep it safe. It isn't as heavy as I expected, but is a little heavy if that makes sense, and I went to the watch shop nearby to get some links taken out and hey presto I had my very own rose gold watch. Since, buying it ..I cannot stop wearing it and have been staring at it constantly because it is just so beautiful. I may just order another one later in the year but a different style. The one I got is the 'Diamond Rose Gold' so it comes with the face all covered in 'diamonds' but there are other alternatives.
I am so excited to start wearing a watch everyday and I find that anything rose gold looks great with everything you wear and the colour is becoming my fav!
After purchasing I found that Lydia//Life is Lovely Jubbly has also bought this watch and you can read her thoughts
here.
If you are sometimes scared of the price tag that comes with designer gear then do not be afraid to visit good old ebay..there are many more 'dupes' that you can find on Ebay in
this
post I did a while back.
Hope you enjoyed and lets all pray that I win the lottery so I can actually buy the real one! Haha